Thecus Linux NAS N16000PRO
The Ultimate Large Business NAS
10GbE aggregation for HA System Redundancy
Support of AES-NI encryption for improved performance and security
Real-time remote replication
Unified Storage - Share data through file and block level with the same appliance
Acronis Backup Solution - System Disaster Recovery
Dynamic Volume Expansion through 10GbE
Massive Expansion with efficient Daisy-chaining

*10GbE card is optional.
Since Thecus® has entered the enterprise level NAS market with the N12000 and the N16000; they proved that the reliability and stability already found within its existing line of NAS could be tailor made to service heavy storage and heavy demand businesses. And to better serve the needs of the diverse enterprise users, the N12000V and N16000V followed which offered a choice between more value and more power. As the technology evolves quickly, Thecus® is now proud to announce its new large business solution, the N12000PRO and N16000PRO.
"Thecus is dedicated to serve enterprise level needs with the best technology available," said Florence, CEO and General Manager of Thecus Technology. "Paired with powerful Intel processors and functions which provide advanced security features, our customers can rest assured that their data is being managed by professional hands."
Better processors for better performance

The new PRO series of 12 and 16-bay NAS comes with the fastest Intel® technology ever seen at Thecus®. The N16000PRO and the N12000PRO are equipped with the Xeon® E3-1275 processor that runs at 3.4 GHz. The quad-core processors are matched by 8GB of DDR3 RAM on both devices to make sure that the biggest commands fly through without an itch. And to make sure the full power of the processors is used, a 10GbE network card can be added to the available PCI-e slot and link aggregation can be used to make sure your network doesn't slow you down.
Store big with Volume Expansion and Daisy Chaining
Brought on by the ThecusOS™ 5.0, users can now dynamically stack their NAS units for more capacities in a single volume; simply designate your N16000PRO or N12000PRO as a stack master and implement a 10GbE switch to connect additional target devices. Scalability is the key notion when it boils down to volume expansion. In fact, an amazingeighttarget devices can be intertwined for a massive volume of multi TB capacity when utilizing 10GbE switch.
Daisy-chaining is the most innovative function to expand storage volume while keeping cost down. Up to four D16000 DAS can be added to your N16000PRO and N12000PRO for an additional 64 bays of storage. As a result, IT enterprises or consumers who utilize large amounts of storage can obtain massive expansion and save cost. Another perk about daisy-chaining is that transfer speeds are fast! Thanks to the SAS cables that are put-to-use to daisy-chain the DAS to the NAS. If paired with volume expansion, daisy-chain can help large businesses expand their storage capacity to up to 2.5 PB!
10GBASE-T High Availability (HA)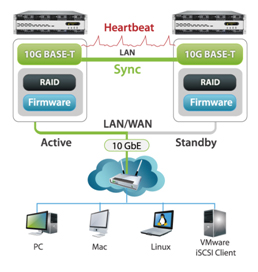 The N12000PRO and N16000PRO both run on ThecusOSTM5.0 which supports one of the most important features within the storage industry, High Availability.In short, HA allows users to replicate the data on an active NAS to another standby NAS via 10GbE synchronization. The importance of HA is quickly noticeable, whether there is data corruption or if the active NAS has any HDD problems or downtime, the standby server keeps all vital data saved and is available at all time to take over the active NAS' responsibilities.
Total backup solution
Also supported by the N16000PRO and the N12000PRO is the total backup solution, Data Guard. This backup solution is the ultimate feature as it providesboth local and remote backup under one roof. Currently, data is backed up across RAID volumes, external USB drives, and eSATA. In addition, Data Guard uses innovative technology to sync data across the network to other NAS, take advantage of real-time remote replication to keep your data safe. More importantly, Thecus®Data Guard is the total backup solution which makes managing NAS user-friendly and convenient.
Additionally, to cover enterprises backup needs, Thecus® joined hands with Acronis and gives five free registered copies of their Backup Recovery 10 Server for Windows. Acronis offers a wide range of critical features which includes scheduling and hot backups with password protection, advanced compression functionality to help save space, incremental backups to save time and FTP/SFTP remote backup. Windows Server users now have a seamless, practical and secure system disaster recovery solution with the features offer by Acronis Backup Recovery 10 Server for Windows (OEM).
Conclusion
The N16000PRO and the N12000PRO from Thecus® are designed to meet the needs of large businesses with large amount of data and who expect professional performance out of their NAS. With unified storage, the users will have the ability to plug their NAS to an iSCSI network, and at the same time, use your Thecus® NAS as an IP Storage pool for both protocols. This way, the NAS can be compatible with any existing or future architecture. Now with faster processors, the N16000PRO and the N12000PRO will deliver quicker response time and handle multitasking with even better ease than before. The N16000PRO and the N12000PRO are a statement that Thecus® promises to always provide professional level NAS for all.
More Information
SKU
N16000PRO
Processor
Intel® Xeon® E3-1275 ( 3.4GHz Quad Core)
System Memory
8GB DDR3 SDRAM
Max Memory
32GB Memory Compatibility List
Disk Interface
6 x SATA/SAS for internal, support SATA II / SATA III hard disk 2 x eSATA for external HDD/SSD Compatibility List
LAN Interface (PCI-e)
RJ-45x3: Intel 82574L 10/100/1000 BASE-TX Auto MDI/MDI-X
USB Interface
USB 2.0 host port x6 (front x2, back x4) (Type A)
Chassis
3U Rack Mount
Link Aggregation
Load balance, Failover, 802.3ad, Balance-XOR, Balance-TLB, Balance-ALB, Broadcast
RAID Modes
RAID 0, 1, 5, 6, 10, 50, 60 and JBOD
Operating System
Linux
Display
Displays system status and information (Multilingual)
Video Output
HDMI
Audio
MIC input, Line input, Audio output
Power Supply
Redundant power supply 700W or more (80plus)
Windows ADS
Yes
Admin User Interface
Web-based user interface supports English, Traditional Chinese, Simplified Chinese, Japanese, Korean, French, German, Italian, Spanish, Russian, Polish, Portuguese, Turkish and Czech.
Additional Specs

| | |
| --- | --- |
| Data Guard | Remote Backup/Local Backup |
| Daisy Chain expansion port | Supported |

PCI-e Slots
8-lane (x3), One is used by SAS HBA
4-lane (x1)
1-lane (x1) used by CU30N (USB 3.0)

| | |
| --- | --- |
| SAS/SATA controller (HBA), PCI-e (8-lane) | LSI 2008 HBA card supports 6G SAS/SATA |
| 10GbE NIC | (Optional x3) |